The Lincoln Project's Cultural Revolution: Political Hit Lists, Vengeance, and Destruction of the Opposition at Any Cost
The Lincoln Project has encouraged individuals to contact members and law firms representing President Trump. The group posted various forms of personal information and encouraged its large social media following to create Linkedin profiles and message people who worked at Jones Day and Proter Wright and ask "how they can work for an organization trying to overturn the will of the American people."
The Lincoln Project's Twitter account was suspended because "the group posted contact information for Porter Wright Morris & Arthur attorneys Ronald Hicks and Carolyn McGee–who are currently leading highly controversial Republican Party efforts to overturn the election results in Pennsylvania."
Harassment, Doxxing, and Criminal Conduct
Anonymous and repetitive harassment is a crime in many states and discouraging an attorney from representing a client attacks the essence of democracy in the legal system. The behavior The Lincoln Project engaged in above is a type of harassment known as doxxing. The Department of Homeland Security wrote an article outlining what doxxing is and how to protect yourself from the behavior.
George Conway is a founding member of the Lincoln Project and a columnist for the Washington Post. George Conway posted a screenshot on Twitter to brag about how Gen. Flynn blocked Conway on Twitter. This is what the Hulu documentary on Tekashi 69 means by "clout."
George Conway is married to Kellyanne Conway, who serviced as special counsel for the White House since 2017 and plans to step down at the end of 2020.
George Conway wrote a 20-page paper in 2016 entitled "The Case Against Felon Voting." Ironically, The Lincoln Project and it's 2.7 million Twitter have criticized Republicans this year for suppressing voters.
Like many other states, Pennsylvania considers cyber harassment encouraged by the Lincoln Project a crime. At least one Pennsylvania attorney withdrew from representing election issues due to harassment.
The Lincoln Project's Coordinated Attacks Porter Wright
Porter Wright withdrew from representing Trump on November 13th, 2020. The Lincoln Project shared the following Tweet in early November 2020. The tweet included the personal contact information of two attorneys from the firm.
The Lincoln Project Attacks Jones Day
The Lincoln Project used Twitter and other platforms to encourage people to harass Jones Day law firm for representing Trump. The series of Tweets was posted on November 10th, 2020. The series of Tweets included directions on how to contact members of Porter Writer and Jones Day and asked followers to "reply with screenshots of your messages."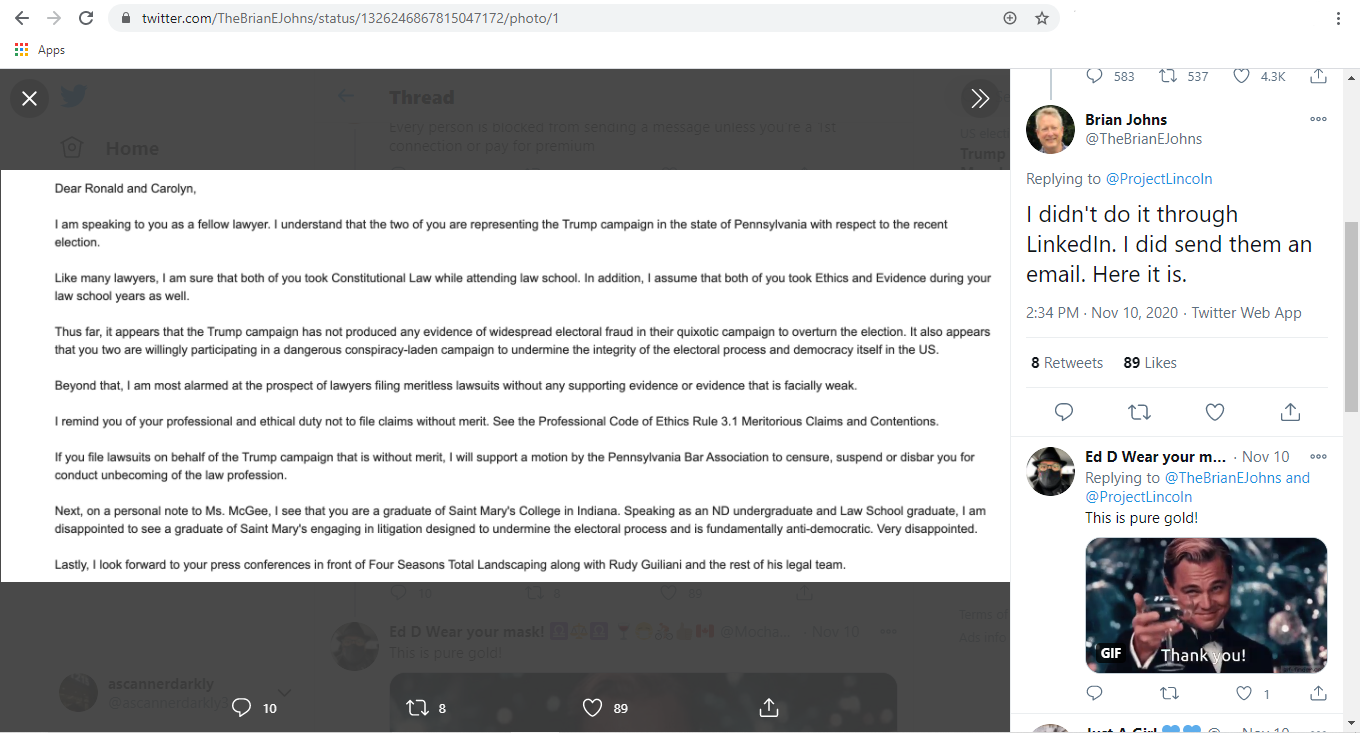 The tactics employed by The Lincoln Project are nearly identical to torture utilized by the Red Guard during Mao Zedong's genocidal Cultural Revolution:
Several followers posted public screenshots of the messages they sent to employees of both law firms. A barred attorney posted a screenshot of an email in which he threatened to report the recipients to the American Bar Association if they continued to represent Donald Trump.
The Twitter user, if he/she/they is truly an attorney, would understand that without the same access to evidence as Trump's attorneys have, it is impossible to judge the merits of the case. In fact, blackmailing an attorney is a crime, which violates the Pennsylvania Bar Association Rules for Professional Misconduct.
Point 5 of the Preamble states:
"A lawyer's conduct should conform to the requirements of the law, both in professional service to clients and in the lawyer's business and personal affairs… A lawyer should use the law's procedures only for legitimate purposes and not to harass or intimidate others. A lawyer should demonstrate respect for the legal system and for those who serve it, including judges, other lawyers and public officials.
Threatening to report an attorney for representing a client is a form of harassment. An attorney is not allowed to divulge details of their case without consent from their client. Therefore the Twitter lawyer likely does not have the ability to review the evidence in the case and lacks the ability to decide the validity of the cast.
The Twitter lawyer also violated Rule 8.4:
8.4 Misconduct
It is professional misconduct for a lawyer to:
violate or attempt to violate the Rules of Professional Conduct, knowingly assist or induce another to do so, or do so through the acts of another;
commit a criminal act that reflects adversely on the lawyer's honesty, trustworthiness or fitness as a lawyer in other respects;
engage in conduct involving dishonesty, fraud, deceit or misrepresentation;
engage in conduct that is prejudicial to the administration of justice;
state or imply an ability to influence improperly a government agency or official or to achieve results by means that violate the Rules of Professional Conduct or other law; or,
knowingly assist a judge or judicial officer in conduct that is a violation of applicable rules of judicial conduct or other law."
The screenshots users posted lack substance and carry a similar theme: warning the recipients about being on the "wrong side" of history.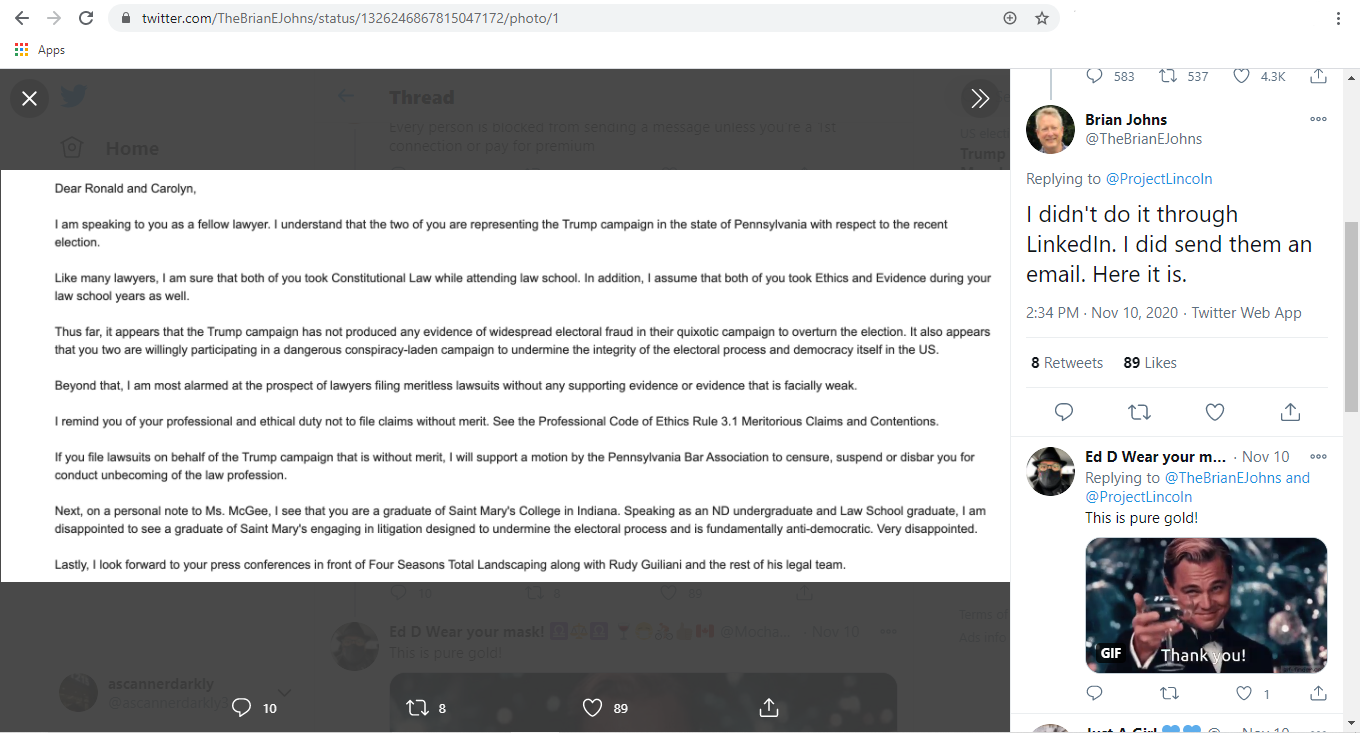 Imagine the lack of conscience required to knowingly harass someone and brag about it publicly. The true irony is that many of the participants used fake names and contact information when sending messages to the targets named by the Lincoln Project. The brainwashed, cultist mentality of Lincoln Project supporters is similar to the youth of the Red Guard Mao manipulated to carry out acts of murder and genocide. For Mao, an army of young followers who would do whatever he said created an easy method to remove political opponents.
The Lincoln Project celebrated and bragged on Twitter when Jones Day withdrew its representation of Trump. The Lincoln Project flaunting how it encouraged adults to harass a law firm to quit a lawsuit demonstrates a complete lack of conscience. To enjoy mobilizing angry groups of individuals and instructing them on how to contact and harass individuals online demonstrates a complete lack of empathy and an obsession with humiliating others in a quest for narcissistic supply.
The behavior is indicative of anti social and sociopathic personality traits. The constant need for attention and internet clout.

The Washington Post immediately published an op-ed supporting the Lincoln Project's Tweets. The Washington Post staff includes Jennifer Rubin. Jennifer Rubin has shared fascist opinions, such as banning Republicans from questioning the election from "polite society," and stating "we have a list."
George Conway also retweeted an article about Rep. Pascrell moving to disbar 23 attorneys working on election lawsuits. An attorney knowing every shred of evidence in a case they've never reviewed is as well positioned as a surgeon tasked with deciding if a patient needs surgery without access to any medical records or imaging.
Perhaps not surprising since George Conway is a contributor to the Washington Post. The writer justifies public accountability (but not harassment) by arguing that since Trump's attorneys are "playing offense" in a civil case and filed "lawsuits that appear to contain baseless allegations of fraud and that seek to have lawful votes rejected," and that "it's not out of bounds to criticize those who agree to bring cases that could be so damaging to our democracy."
But the writer does not mention that the tweet released the attorney's phone numbers and email, included a skull and bone flag, and played a role in the law firm quitting the case. Forcing attorneys to quit cases through violence, stalking, and harassment is a violation of civil rights. Totalitarian regimes commonly limit and restrict legal representation for political opponents.
The actions of The Lincoln Project are criminal. They equate to interstate stalking, obstruction of justice, harassment, and assault. The individuals on the receiving end of unwanted and harassing communication have both civil and criminal remedies against The Lincoln Project and their followers for intentional and negligent infliction of emotional distress. Victims of the abuse should likewise consider reporting George Conway to the appropriate ABA branch for ethical violations.
While it absolutely is lawful in a free society to boycott businesses you don't support, the writer overlooks the fact that Jones Day and other attorneys quit representing Trump solely because of harassment and similar criminal behavior.
The Lincoln Project Twitter account has 2.7 million followers and regularly retweets content from their founders and contributors. The Twitter page for The Lincoln Project is essentially a groupthink page for its members a large audience that can increase monetization opportunities. The 2.7 million followers also give Lincoln Project members the ability to seem like an authority on a topic. A retweet equates to an endorsement, so when the Lincoln Project retweets something from George Conway, it benefits George Conway personally, professionally, and potentially monetarily. The more engagements Tweets have, the more likely the user is to be able to monetize the content. With the Lincoln Project regularly retweeting content from George Conway, Reed Galen, and Jennifer Horn.
John Weaver of the Lincoln Project was recently exposed for sexually harassing multiple men on Twitter, further demonstrating the lack of ethics and morality by the Cultural Revolution obsessed Lincoln Project:
If a fair and just judicial system is a necessary component of a liberal democracy, then what happens when special interest groups funded by the elite and connected to billionaires turn their focus on other groups? What happens if this mentality is extended to victims of sexual assault who choose to sue the perpetrator?
While a right to counsel is not guaranteed in civil law, individuals have the constitutional right to have their cases and grievances heard in an impartial court. The lack of criminal charges against individuals who harassed attorney's representing Trump demonstrates the Court is not impartial and is allowing barred attorneys to become targets for political radicals. What happens when physical acts of aggression occur? Or when a radicalized Lincoln Project supporter chooses that simply voicing their distaste of a law firm isn't enough and that to truly save democracy they must act? When blood spills due to the toxic and violent culture political elites are cultivating online?
The Washington Post is owned by the uber-wealthy Jeff Bezos, whose net worth increased $48 billion in 2020. Why does that matter? Well, it seems like the Lincoln Project is enjoying favorable reporting with a publication owned by one of the world's wealthiest men that profited astronomically because of the global shutdowns.
Antifa: The Anti-Fascist Handbook, written by Mark Bray, defines fascism as the following:
"I agree with Angelo Tasca's argument that "to understand Fascism we must write its history." Yet, since that history will not be written here, a definition will have to suffice. Paxton defines fascism as: ". . . a form of political behavior marked by obsessive preoccupation with community decline, humiliation, or victimhood and by compensatory cults of unity, energy, and purity, in which a mass-based party of committed nationalist militants, working in uneasy but effective collaboration with traditional elites, abandons democratic liberties and pursues with redemptive violence and without ethical or legal restraints goals of internal cleansing and external expansion."
I don't know about you, but the Lincoln Project seems to meet Antifa's definition of Fascist.